Have you ever seen someone's IG, Pinterest, or Facebook page and you just think to yourself, "This page creates great content!"
Most, if not all, pages you see like that is due to the planning that goes into the content that they put out.
The scheduler you use to plan out your content is key.
While there may be people that say you should stick to the scheduler within the app or platform, you shouldn't let that tie you down—these apps would not integrate to third party schedulers like Planoly or Later if they did not want you using it.
Instagram Straight Flexin: Planoly vs Later (Free Access)
Before we go into each of the features I have, I want to show you the similarities of each scheduler.
Both Planoly and Later has a free for life basic package which allows you to visually schedule 30 posts per month for Instagram with analytics included.
The difference between the 2 free packages is the number of profiles you can use, the platforms it integrates with, and the number of media uploads (Later is unlimited in free, while Planoly does not offer this).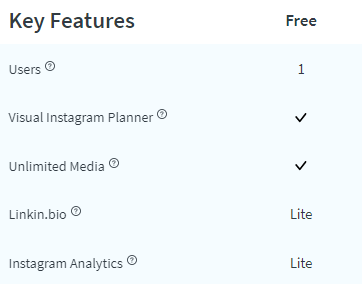 The price point for Later and Planoly are similar and they offer similar features with some exceptions.
The stand-outs for me is that Planoly is purely for Instagram while Later integrates with Instagram, Twitter, Facebook, and Pinterest.
For the basic package, Planoly bills you $7 per month annually. This gives you access for 1 Instagram Profile (and 1 Pinterest)—one either has unlimited uploads and the other 30 uploads per month.
Later's basic package bills you $7.50 per month annually. This gives you access to 1 profile per platform, 100 posts per platform, linkin.bio , save captions, and hashtag search
Instagram Straight Flexin: Stand-out Features
The stand-out feature I love with Later is the search and repost (which I absolutely love).
Search and repost allows you to search Instagram for posts within Later and repost it with auto credits to the poster.
For Planoly, the stand-out feature that I loved (though paid) is the $40.00 per month add-on for Shoplink.
Shoplink is a dedicated link in your Instagram bio that brings your followers to an e-commerce site that mimics your Instagram feed.
The other feature I loved about Planoly is the splitter feature which allows you to split an image into 3, 6, or 9 boxes.
Each platform has higher packages with more features for you to use and enjoy. To learn about their prices feel free to visit Planoly and Later.
There you have it! These are my top 2 tools to make your Instagram straight flexin!